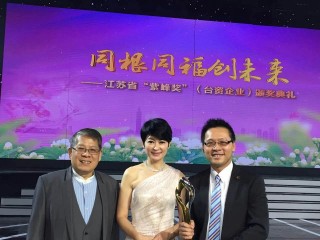 Approved by State Council of the PRC, the "Purple Peak Award" ceremony was held at Jiangsu TV Broadcasting Concert Hall in Nanjing on October, 30th, 2016. This is the first award for Jiangsu province, even for the entire mainland China, to recognize the great economical achievements and contributions by Taiwan-funded enterprises in Jiangsu.
With the most Taiwanese companies in terms of quantity and trading volume, Jiangsu province has around 26,000 Taiwan invested enterprises which contribute a great amount of economic development. Among those enterprises, only 64 companies were acknowledged as the winners of the 1st Purple Peak Award.
Taizhou K.K. Plastic Company, manufacturing COSJAR packaging, is proud to be recognized by Purple Peak Award. Attending the ceremony, Anderson Tsai, the president of Taiwan K.K. Corp., represented the K.K. Group to receive the prize from the president Chen of ARATS (Association of Relations Across the Taiwan Straits). "It is a great honor to be part of the Purple Peak Award. We have been supported and aided by so many friends from government and it is a big encouragement and excitation for all the members in K.K. to earn this special recognition at this moment." says Anderson Tsai.