Indumar Tube Leakage Repair Products - U.S.A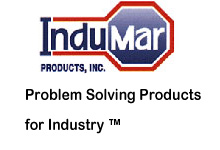 "STOP-IT" pipe repair system: Repair metal or plastic pipe leaks in just minutes
Fix Stick: Hand-moldable steel fill epoxy
Pipe Repair Clamp: PTFE faced repair clamp

This in-field repair system can be quickly applied-one man, no tools, no hot work-and it cures to a hard durable repair in thirty minutes. STOP-IT is a knitted fiberglass tape coated with special urethane resins that are activated by water. It is ideal for repair of pipe leaks and reinforcing pipe joints in any situation-even under water!
FIX STIX, a hand-moldable two-part epoxy, which sets in twenty minutes, is perfect for plugging larger leak areas and filling complex voids and offsets. A valuable maintenance tool in itself, it can be a filler-sealer, adhesive or even used to fabricate and rebuild. FIX STIX won't crack or pull away and can be drilled, threaded, ground and painted.
Used in combination. FIX STIX followed by STOP IT REPAIR TAPE, expands your repair capacity. This dynamic pair is a dollar-saving ally in your battle against lost production.